Duplex eye-eye webbing sling
Material: Polyester Nylon
Safety Factor: 6:1 7:1 8:1
Standard: ISO4878 EN1492-1 ASME B30.9
Length: As required
Color: Color code



This is the most popular kind of webbing sling, there are made one of
Polyester, Nylon Polypropylene, the safety factor from 5:1to 8:1 are
available.We make these products according to,ISO4878, EN1492-1
ASME B30.9, complied with GS CE safety require. Customers could
choice special length base on special require.


 
 
 

7:1 2t

7:1 3t

 

7:1 3t

7:1 5t

 

7:1 8t

7:1 10t

  

  Warning

  1.Failure to comply with this warning may result in serious load

  damageand death or injury.

  2.Use only if trained.

  3.Can fail if damaged, misused or overloaded.

  4.Inspect sling for damage before each use.

  5.Always protect sling webbing from sharp edges of load.

  6.Do not attempt to use sling above rated lifting capacity.

  7.Do not use sling if rated capacity tag is removed or unreadable.

  8.Avoid acid, alkali and sunlight.

  9.Do not tie knots in sling webbing as strength is greatly reduced.

  10.Do not use sling if there are any signs of cut webbing, heat or

  chemical damage, excessive wear,or other defects.
Economical & adaptable sling with no fixed wear points. Used in all hitches. We could product single and multi-ply webbing sling according to customers require, there are made one of polyester Nylon Polypropylene,
the safety factor from 5:1to 8:1 are available. We make these products according to ISO4878, EN1492-1, ASME B30.9, complied with GS CE
safety require. Customers could choice special length base on special requirement.


 
 
 

7:1 1t

6:1 4t

 

7:1 3t

7:1 3t

 
 
Endless webbing sling's Ply Stock No WLL SWL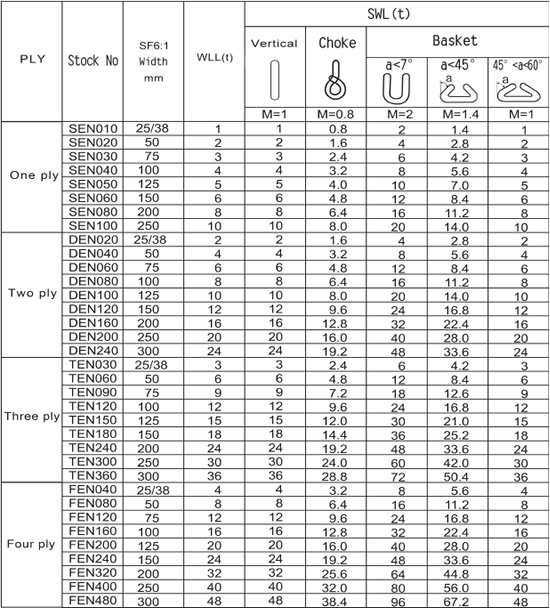 According To EN1492-1:2000 ( SF=7:1)
 
 
 
 
 
 
 
 

Stock No.
Color

WLL,M

WLL

Vertical

Choker

Vertical Basket

Vertical

Choker

Vertical

Choker

0-7°

7-45°

45-60°

<45°

<45°

45-60°

45-60°

1

0.8

2

1.4

1

1.4

1.12

1

0.8

E7DEE010

WLL 1T

1,000

800

2,000

1,400

1,000

2,800

1,120

1,000

800

E7DEE020

WLL 2T

2,000

1,600

4,000

2,800

2,000

5,600

2,240

2,000

1,600

E7DEE030

WLL 3T

3,000

2,400

6,000

4,200

3,000

8,400

3,360

3,000

2,400

E7DEE040

WLL 4T

4,000

3,200

8,000

5,600

4,000

11,200

4,480

4,000

3,200

E7DEE050

WLL 5T

5,000

4,000

10,000

7,000

5,000

14,000

5,600

5,000

4,000

E7DEE060

WLL 6T

6,000

4,800

12,000

8,400

6,000

16,800

6,720

6,000

4,800

E7DEE080

WLL 8T

8,000

6,400

16,000

11,200

8,000

22,400

8,960

8,000

6,400

E7DEE100

WLL10T

10,000

8,000

20,000

14,000

10,000

28,000

11,200

10,000

8,000

E7DEE120

WLL12T

12,000

9,600

24,000

16,800

12,000

33,600

13,440

12,000

9,600

 
 
 
 
 
 

Stock No.

SF

Width

String

Color

M.B.S.

E7W010

7:1

30mm

1/Without

4500kg

50mm

60mm

 

Stock No.

SF

Width

String

Color

M.B.S.

E7W020

7:1

50mm

2/Without

Green

9000kg

60mm

 

Stock No.

SF

Width

String

Color

M.B.S.

E7W030

7:1

75mm

3/Without

Yellow

13125kg

90mm

 

Stock No.

SF

Width

String

Color

M.B.S.

E7W040

7:1

100mm

4/Without

Grey

17500kg

120mm

 

Stock No.

SF

Width

String

Color

M.B.S.

E7W050

7:1

150mm

5/Without

Red

21875kg

 

Stock No.

SF

Width

String

Color

M.B.S.

E7W060

7:1

180mm

6/Without

Brown

26250kg

 

Stock No.

SF

Width

String

Color

M.B.S.

E7W080

7:1

240mm

8/Without

Blue

35000kg

 

Stock No.

SF

Width

String

Color

M.B.S.

E7W100

7:1

300mm

10/Without

Orange

43750kg

 

Stock No.

SF

Width

String

Color

M.B.S.

E7W120

7:1

300mm

12/Without

Orange

52500kg